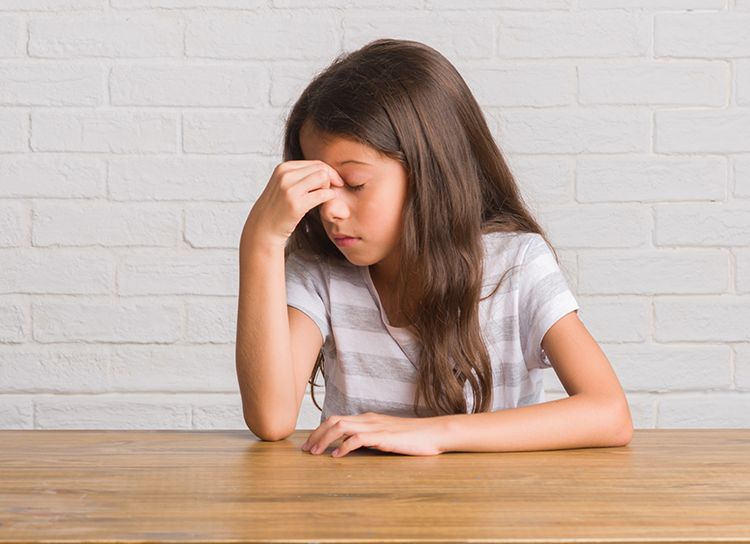 MANAGE YOUR OWN STRESS
Your child notices and takes cues from you. If you are feeling stress, manage your own anxieties and then tell your child, "Sometimes I feel stressed, so I take deep breaths and think about how I am safe." This language helps your child realize stress is normal and they can deal with it on their own. 
TELL THEM AGE-APPROPRIATE INFORMATION
Appropriate language for most school-age children could sound like this: "There is a sickness going around. It is kind of like getting a really bad cold, but the germs move really fast. We are staying home to stop the germs from spreading. If we get sick, we will feel bad, but we will be OK. If grandmas and grandpas or people who are already sick get this really bad cold, it can make them very sick and they may have to go to the hospital. So we are staying home to keep everyone safe from the germs. That is why we wash our hands to keep the germs off."
KEEP THEIR ROUTINE AS NORMAL AS POSSIBLE
Continue to wake up around the same time, get dressed and brush teeth. As fun as school in your pajamas sounds, it is hard to signal children that the day is starting with responsibilities. This routine is comforting to children and helps them feel like life is still OK.
MANAGE BEHAVIORS WITH THE THREE R'S
Expect increased behaviors. This helps you manage them calmly. Use this step-by-step guide to help manage anxieties and behaviors:
REGULATE — First, help your child calm down. Sit with them, hold them, be on their level, practice regulating yourself while sitting, take deep breaths, distract (not with screens), count to 10 on your fingers.
RELATE — Next, use statements like, "I know it's hard when your sister takes things without asking." Or, "I get upset too when things can't be like they usually are."
REASON — Finally, only after a child calms down and knows you are on their side can you reason. This is the time to say, "Even though I know you are upset, hitting other people is not OK. What is another way you can share you are upset?" If your child re-escalates, return to regulate until they are ready. This type of parenting takes more time than sending them to their rooms, but, especially now, children can't manage their stress alone, they need you! Sit with them through the stress like you would hope your loved ones would sit with you. All behaviors are communicating — try to figure out what the screaming, yelling and hitting are saying instead of isolating your scared and anxious child.
INTEGRATE PLAY AND FUN ACTIVITIES
The best way to combat childhood anxiety is through play. This is how children process and develop ideas about what is safe. Play games with your child that they pick. Create activities you know they enjoy. Don't be afraid of messes, part of being at home is kids learning that having fun means cleaning up, too! This is a great time to learn why Roblox, Minecraft or other video games are so much fun.
For more information or help managing your own stress, members should contact Continuum EAP at 402-476-0186 / 800-755-7636 or easpecialist@4continuum.com to access problem-solving or counseling services.