EAPs improve employee performance
Employee outlook and job performance can dramatically improve with an often overlooked resource... EAP counseling.
Employee assistance program services have historically been measured by utilization and program features, which are unable to truly reflect EAP effectiveness. Having reliable, scientifically validated benchmarking provides the means to assess the impact of EAP services, based on data that is relevant to the employer. Such as Continuum EAP's 2015-2018 outcomes for its counseling clients, which show significant improvement in job performance markers and positive changes in employee outlook. 
These results are based on a five question self-assessment taken at the beginning and end of the EAP counseling experience. This new benchmarking tool — The Workplace Outcome Suite — has been endorsed as a best practice by the Employee Assistance Professionals Association.
The five areas measured in the Workplace Outcome Suite include:
Absenteeism: Number of hours in the last
30 days the employee missed work due to
the concern that brought them to their EAP.
Presenteeism: Evaluates how distracted the
employee is at work due to their EAP concern.
Work Engagement: Focuses on how involved
or "stimulated" the employee is by her/his job.
Life Satisfaction: A general measure of
personal well-being or quality of life. 
Work Distress: Concentrates on the employee's
sense of "dread" about going to work.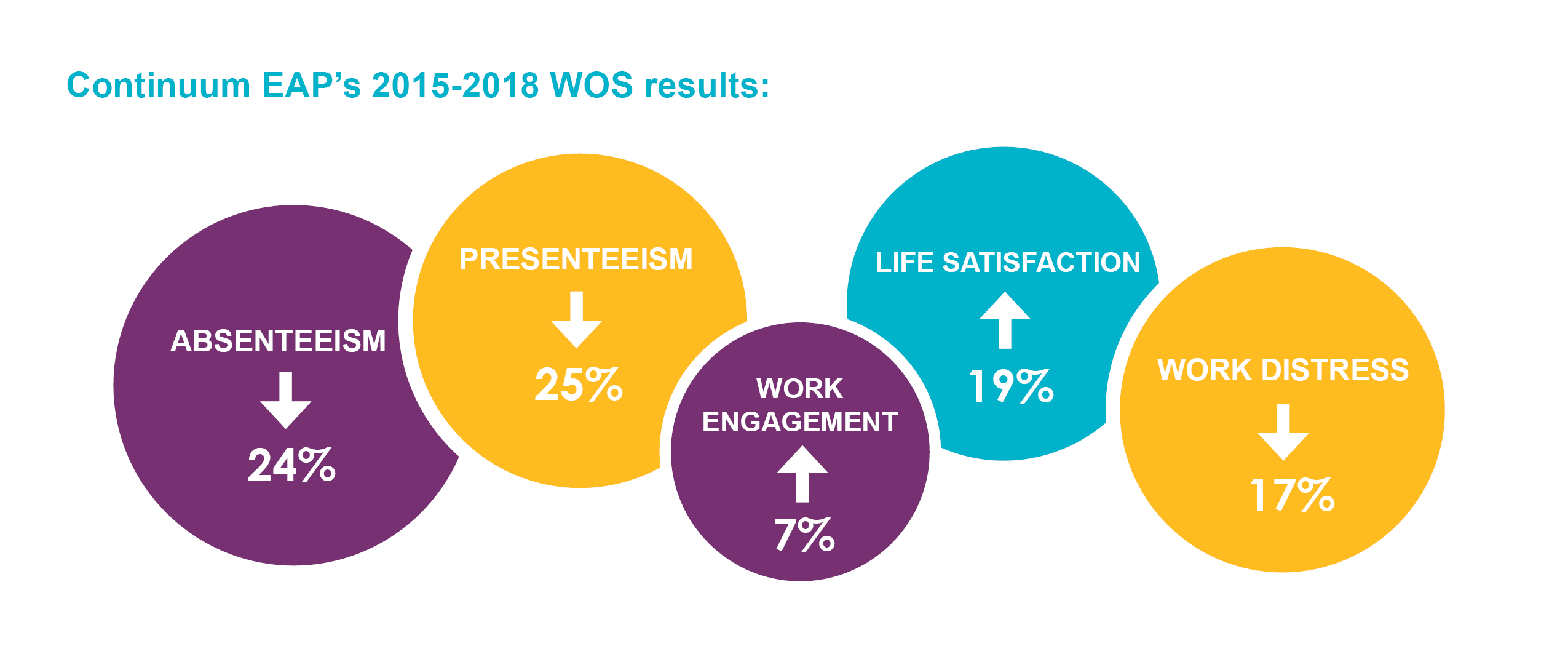 How do these results affect the workplace? Chesnut Global Partners, the Workplace Outcome Suite developer, reports, "Absenteeism and presenteeism effects are particularly strong, likely producing cost-savings through productivity enhancements that may exceed the expense of the EAP itself."
For national study results, review Chesnut Global Partners' 2018 Annual Report.