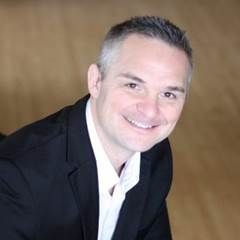 Chad's easy manner and enthusiasm makes it evident why he excels in human resources. Starting his journey with Union Bank seven years ago, Chad has been the president of Zelle - a recruiting and consulting organization developed under the direction of Chad and the marketing team at Union Bank - since its genesis three years ago.
Chad shares being entrepreneurial and liking change spurred his interest in the challenge to build and create HR solutions that would focus on client needs in performance management, and he readily took on the challenge with the swift energy of a gazelle, the company's namesake.
Along with overseeing the transformational growth of Zelle's expanding business, Chad has donated his time and expertise as a six year board member with Continuum, serving as president the past three years. He became acquainted with Continuum through its partnership with Union Bank's benefits program. He emphasized working with Continuum has been "one good thing after another."
Highlighting Continuum's value he adds, "In my opinion, Continuum is our best partner and delivers every time we have a need. We understand the services Continuum offers are indispensable for human resources, but we also want to promote EAP benefits to employees as a fantastic, life enhancing benefit. We really try to make 'Continuum' a good word and brand our involvement as a positive experience."
Having their own robust training and wellness program onsite, Chad asserts the HR team finds consulting with Continuum experts their most utilized and indispensable benefit as a member company. Continuum has a reputation to serve diverse industries with excellence and efficiency with a solid staff.
Chad's personal passions and interests are as varied as Continuum's services. He serves on the boards of Concordia University and Clinic with a Heart. He is an avid fiction reader and enjoys an eclectic variety of music, and describes himself as a workout fanatic. He married his college sweetheart, and together they have two children, Oliver and Olivia.
To connect with Chad and learn more about Zelle, visit www.zellehr.com.