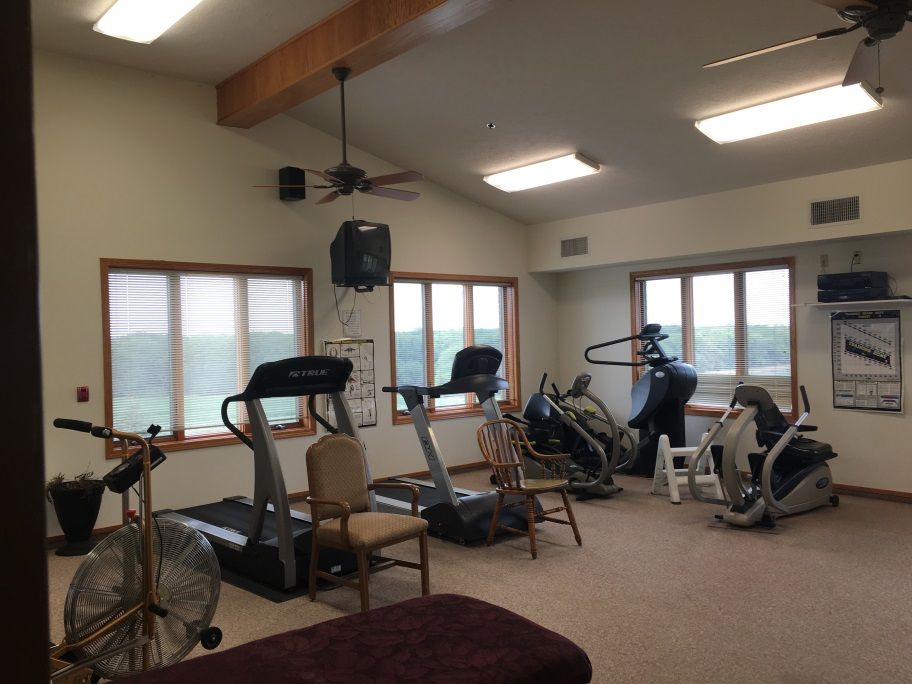 This week we are proud to share how Gold Crest Retirement Center, a member company since 2008, has implemented a successful wellness program within their organization.
Gold Crest's multi-building campus sits upon a sprawling hilltop overlooking the welcoming, rural community of Adams. The cheery, comfortable center is home to over 60 residents and 100 staff. The peaceful landscape includes small homes for independent living, assisted living and an advanced care unit. A unique feature for Gold Crest is the adjacent day-care center where intergenerational activities are designed for mutual learning and enjoyment. Amenities include an onsite wellness center for employees and a walking path that winds around a serene lake in the expansive "backyard" used daily by the resident walking club.
Director of Nursing Michelle Denker and Executive Director Jeff Fritzen conceived and oversee the wellness programs offered to employees and their family members. It is evident Michelle has invested a lot of her own spirit and energy in designing a wellness program that engages their growing high school and college-aged employee population. Michelle herself grew up at Gold Crest, following in her mom's footsteps, who has been working at the facility since it opened 34 years ago. Michelle began her career at Gold Crest at 16 and has served in her current role for the past five years.
Michelle has integrated Continuum's wellness consultation and training services into their wellness initiatives, most recently hosting a Lunch & Learn session on healthy-eating habits. In addition to movement challenges, Gold Crest has also taken advantage of Continuum's monthly online webinars and newsletters, which feature a variety of wellness topics.
This year Continuum introduced four off-the-shelf quarterly wellness challenges, which Gold Crest has also utilized to increase participation among their team and advocate for healthy work-life balance. Michelle has discovered team-based challenges with goals and incentives consistently improve participation and has increased "buy in" to maintain the wellness program over the years. Michelle makes it a priority to brainstorm fun prize giveaways and recognize wellness participants at team meetings.
A popular annual wellness event developed by Gold Crest's wellness team is the Fitness Rally held each summer. The Amazing Race-style event is open to employees and their family members and also serves as a quilt fundraiser to provide Christmas gifts for residents. Each exercise or activity on the course around Adams encourages team engagement and an opportunity for the company and community to connect. The top three teams to earn the most points at the six checkpoints claims a prize, but more importantly, bragging rights.
Personally, Michelle has competed in sprint triathlons, half marathons and the Market2Market race to model to her 7-year-old daughter the importance of disciplined training to incorporate wellness into her life, explaining, "Once you start, they follow." Michelle's enthusiasm and persistence led to her success in a significant weight loss, demonstrating that walking the talk sustains wellness and inspires others.
To learn more about Gold Crest visit them on Facebook or http://www.goldcrest.net/