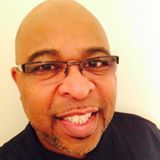 One of the first things you notice about John Harris is his gregarious presence. As he speaks, you experience his gift for engaging an audience through storytelling and you literally feel inspiration wash over you as the conversation unfolds. John takes a confessional and humorous approach to exploring the importance of gratitude and cultural consideration in building strong, intentional communities and companies. Unity, impact, relationships, and appreciation are common takeaway themes from John's workshops.
Approaching his fourth year as a training partner with Continuum, John reflects on how he first came to be a motivational speaker, consultant and training partner. He explains after resigning from an administration position with UNL in 1999, he did some soul searching and felt a need to be more involved in the community. In the next two years of what John describes as a "faith move," he determined to gain a better understanding of the organizational side of nonprofit work to integrate with his background in business. He coupled that learned wisdom with an abiding passion to later develop a nonprofit of his own to serve underprivileged youth and families.
John frequently partners with Continuum as a popular facilitator of our monthly Leadership Academy events, which are designed to bring together supervisors and team leaders from our diverse range of member companies. One of John's guiding principles for developing leadership training and connecting with his audience is, "What's going to impact people?" Having a captive audience does not diminish his 'give everything you have' attitude and spurs on his hope to ensure success occurs on an individual and collective level.
John views his role as helping others to understand what makes their organization successful and recommitting to fulfill the promise of being responsible for that success. He examines what it means to be living and working together in a broader sense and adopts a strengths-based approach to topics such as conflict, diversity, intergenerational communication, achievement and leadership. John reiterates his gratitude to Continuum for believing he has something to offer with his own quote, "What is life if not a gift, and what good is a gift if you don't give it away?"
In 2002, John founded Encouragement Unlimited, Inc. to fully commit himself to being a resource to others who have felt undervalued and unappreciated. Aside from young people, he asserts he wanted to include a second dimension of service to give public servants and other like-minded professionals the credit they deserve. John shares he designed Encouragement Unlimited based on Three Pillars: Partnerships, Programs and Postcards.
Partnerships are designed to extend the reach of charitable services available to low income households and community centers through the partnership of such organizations as Lincoln Public Schools, Lincoln Police Department and the Food Bank of Lincoln.
Programs are intended to help fill in the gap between young people and others in the community. John created an initiative known as Community Conversations to bring together citizens and police officers to regularly discuss concerns. In 2011, John embraced an opportunity to be a catalyst for change with his anti-violence "No More, Not Here" education campaign in response to increasing gun violence around the nation and concern about its impact on local youth.
The third pillar is a weekly postcards program that sends "words of encouragement" to those on the mailing list or who are referred. The goal of this pillar is to build an "army of encouragers" to extend goodwill and encouragement to those who need it most.
Whether John is facilitating one of dozens of training sessions he provides for Continuum on a yearly basis, or speaking to a crowd gathered at a community event, he is doing his part to embody his moniker, Mr. Encouragement. Being intentional and inspiring communities of which we enjoy being a part — whether at home or work — are the cornerstones of his training programs.
If you have attended one of our training sessions with John, share a comment below about your favorite takeaway, or how you are cultivating community at your organization.