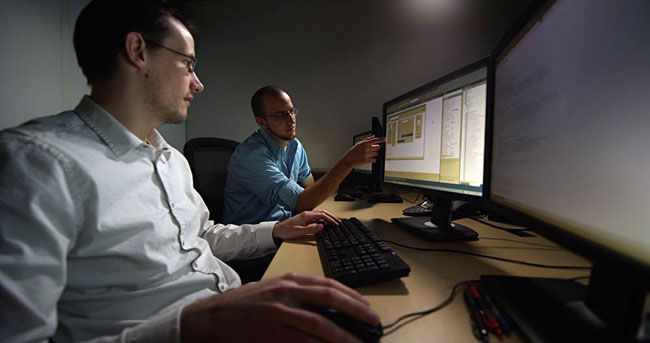 There's no "i" in team. But if there was, it would represent innovation. Since its inception over 25 years ago, TEAM Software has made it their mission to provide integrated client services and cloud solutions in fresh yet consistent platforms, carving out their own creative corner of cutting-edge software technology.
TEAM comprises a group of self-described "techies" in a casual-contemporary office space in downtown Omaha. The company has flourished in developing software solutions for contractors in the building service and security industries. Their fully integrated solutions range from award-winning financial, operations and workforce management, time and attendance, as well as employee and customer self-service portals. Every spring they host a client conference to offer workshops and industry-specific training, as well as a hands-on experience exploring the latest software solutions in their Product Innovation Lab.
TEAM was recognized as one of the Top Five Best Places to work in Omaha for 2014 and Best of Omaha, Best Employer – Less Than 100 Employees in 2015. In 2016, TEAM was recognized as the Iowa-Nebraska ESOP Chapter Company of the Year (Employee Stock Ownership Plan). TEAM became employee owned in 2007.
TEAM emphasizes the advantage of being employee owned sets them apart from other providers and allows the collective group shared success in adding value to the customer experience. TEAM is proud to shape their employee-ownership business culture according to their 10 Core Values, which include virtues such as respect, integrity, quality, customer-focused support, and people development.
To underscore their vision and commitment to helping employees be their personal best, TEAM provides onsite fitness services and financial education programs. In 2014, TEAM began their partnership with Continuum EAP to support their employees with the breadth of work/life and employee performance resources Continuum offers its member companies.
Some of the ways TEAM has integrated EAP support include onsite smoking cessation groups, leadership training, and spotlighting online resources befitting the technology-based organization. Continuum is proud to support TEAM Software's transformative influence in the software industry and be a part of their Year of Innovation.