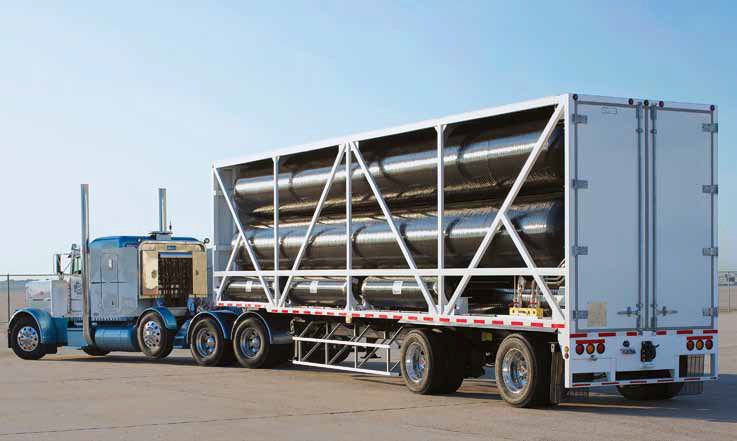 Hexagon Lincoln has been making its specialized pressure vessels since before America sent a man to the moon. So when NASA was in need of lightweight vessels for its manned missions, Hexagon Lincoln's experience made them the obvious choice. In fact, many of the components and pressure vessels on the Space Shuttle were built by the Hexagon team.
Since the company began producing high-pressure composite vessels over 50 years ago, it has been known in the community by different names: Brunswick, General Dynamics, Lincoln Composites and finally Hexagon Lincoln, when in 2005, it became a member of the Hexagon Composites Group of companies.
While the manufacturer's name has changed over the years, according to Matt Becker, Hexagon Lincoln manager of Human Resources, its staunch focus on quality and core values of integrity and drive have remained intact.
Today, Hexagon Lincoln operates one of the world's most-advanced facilities for designing, testing and manufacturing high-pressure composite cylinders.
Hexagon cylinders are utilized by major automakers to carry compressed natural gas to power cars, buses and industrial vehicles and facilities. Up to 70 percent lighter than steel cylinders, they help deliver overall weight reductions, greater storage capacity, and improved operating economy to gas distributors and OEMs worldwide.
To achieve all this it takes a diverse team of dedicated individuals from the executive leadership level, to engineering, quality, purchasing, sales, IT, maintenance, production, and the list goes on.
Matt's favorite part about working at Hexagon Lincoln is not that the fact that the manufacturer is a global leader in the industry, it's being able to serve the hard-working men and women who design, manufacture and sell their products.
"Our people are absolutely amazing," Matt shared.
We are a company dedicated to the personal and professional betterment of the "whole-person employee" with a strong focus on employee wellness, he added.
A member company for more than 25 years, Hexagon views Continuum as a key business partner and valued resource for its employees, aka teammates.
"Continuum provides high-quality — and confidential — educational and counseling services for Team Hexagon," Matt said. "The resources available are definitely of value and complement any employee benefits package."
To learn more about Hexagon Lincoln and their cutting-edge products, visit their website at www.hexagonlincoln.com.