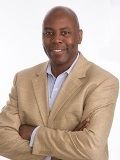 Approaching six years of leadership as the manager of Team Member Services for Continuum member company Duncan Aviation, Leon Holloway has also dedicated his talent and experience in human resources as a Continuum board member. Serving a multi-faceted role at Duncan Aviation, the largest privately owned business jet support facility in the world, Leon shares what makes Duncan Aviation an industry leader, and the benefits of a collaborative partnership with EAP.
What's the story behind how you became a Continuum EAP board member?
I met Continuum's Executive Director, Gail Sutter, while working for a small manufacturer in Waco, Nebraska. At that time we were looking to add an EAP to our benefits portfolio. Our paths intersected while I was serving on the LHRMA and the Economic Development boards. Once I started at Duncan Aviation, who utilized Continuum EAP, she asked if I would serve on the Continuum Board. I was honored to accept.
How would you describe Duncan's company culture?
I believe culture is hard to define. It's our core values and beliefs that shape employee satisfaction, relationships, etc. to be the best in our industry. Our workforce is very diverse, but we hold a common thread that ties us together to do the right thing with a professional, positive attitude. Our team members care about our customers and they are mindful to create an exceptional experience each and every time.
What makes employees of Duncan Aviation unique?
Our workforce encompasses a broad spectrum of career opportunities. Our company vision is to create an environment where the best people come, grow, and stay. We hire and retain the most qualified and experienced team members in our industry. The quality, integrity, knowledge and commitment of our team members separates Duncan Aviation from our competition. We strive to have employees look at their work as a career, not a job.
What does Duncan Aviation view as the most important element of its success?
Our customers, business aircraft operators, and obviously, our team members. We have a strong leadership team with the right vision to strategically lead the company into the future. Never deviating from our core values and keeping quality of service and safety a main priority. Investing in the future of our team members and infrastructure will continue our growth potential to meet the needs of our customers.
How does your company contribute to its employees' personal and professional development? How does Continuum EAP support that?
We invest nearly 6 million dollars in the development and training of our team members. Employee development creates a learning culture in the organization where every employee is motivated to learn new skills and acquire new learnings. Continuum continues to be a partner over the years to assist our team members in meeting training and development initiatives.