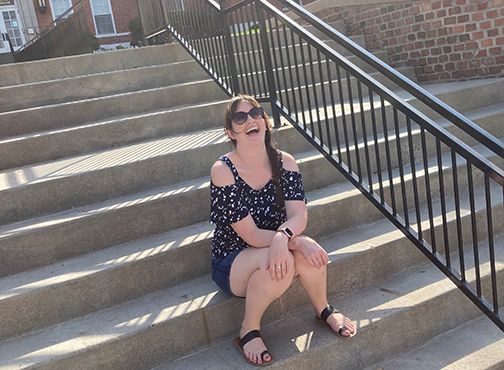 It's our talented team of employees who make Continuum EAP shine. Therefore, we periodically like to provide a behind-the-scenes look at the individuals who help make Continuum so great.
Meet Kaitlin Wilson, LMHP and EAP Professional.   
WHAT THREE WORDS BEST DESCRIBE YOU?
Funny, Calm and Kind.
WHEN OR HOW DID YOU DECIDE THAT COUNSELING WAS THE RIGHT FIELD FOR YOU?
I've wanted to go into the counseling field since I was an adolescent. Like many counselors, I learned about the mental health struggles of a family member and wanted to be someone who knew more about it, and could also help other family members in a compassionate way. No one chooses to have a mental health disorder. I wanted to be able to help heal families and help people feel understood and seen for their true selves.
WHAT IS YOUR FAVORITE THING ABOUT WORKING AT CONTINUUM EAP?
I truly enjoy the work that I do here; the short-term counseling is a great way for me to use my training, connect to my passion, and use my skill sets with clients – but I also enjoy finding them a good fit for their next clinician if they need longer-term counseling. I really enjoy my co-workers. We are a small but mighty force and we really are working as a team. Pioneering our webinar platform has been a challenging but enjoyable experience, and enables me to help the team in an area not used before the surprise that was COVID-19. Something else I enjoy about Continuum is that I'm not doing the same thing every day. There are always opportunities to expand on the work that I do and grow in different areas of my profession.
WHAT WOULD YOU DO (FOR A CAREER) IF YOU WEREN'T DOING THIS?
I might consider Speech Language Pathology. I engaged in SLP for a few months in 2020 and found it fascinating. There's so much to learn about speech and how you use your mouth, I couldn't believe it! It's also another way to directly help people that can be life changing – at least it was for me!
WHAT DO YOU ENJOY DOING IN YOUR FREE TIME?
I enjoy reading, watching food competitions shows – I'm really into Top Chef right now. I also enjoy eating and learning about the food I'm eating and expand on my cooking skills. I like to golf, when the weather is nice, and spend time with my family and my cat Silver (Linings).
IF YOU COULD HAVE LUNCH WITH ANYONE, DEAD OR ALIVE, WHO WOULD IT BE AND WHY?
Oh gosh… that's always a hard one. I'll go with Amelia Earhart. I just want to know what happened to her!
DO YOU HAVE A MOTTO OR QUOTE THAT YOU LIKE TO LIVE BY?
"God's plan is bigger/better than mine." That's something I've said to myself a lot.
To other people I say, "How's that working for you?" and "If you don't deal with it – whatever it is – it will deal with you." Because our traumas, anxieties, etc. won't just disappear if we ignore them. And if we let them control when they are going to 'deal with us' it's usually not a great time and it can be much more painful. But then I also let people know it's their choice to choose not to deal, I just want them to have the awareness.
WHAT ADVICE WOULD YOU GIVE YOUR YOUNGER SELF?
RELAX, it's gonna be OK. In the words of Kenny Chesney: "Everything's gonna be alright…. Don't go hitting that panic button, it ain't near as bad as you think. Everything's gonna be alright."